Upto Crypto Review – Legit Business or Big Scam? Find Out Here…
Welcome to my Upto Crypto Review!
There has been some online buzz about this company lately, so I decided to check it out for myself!
I always say the best thing you can do before joining a new company is to fully research it.
You work hard for your money and you want to be sure it's in good hands.
My review will help you make your choice by providing you with all the info you need about the company, the products and the compensation plan.
Read on to learn more about Upto Crypto!
Upto Crypto Review – The Company
Upto Crypto does not offer any information on their website in regards to who owns or operates the business.
The Upto Crypto website domain was registered privately as "uptocrypto.com" on the 2nd July, 2017.
Online traffic estimates reveal that France is the largest source of traffic to the company website.
I also noticed that some of the Upto Crypto compensation plan is in French, which likely means that whoever is running the company is based out of France.
Maybe you should look into something more transparent (like Jeunesse).
Upto Crypto Reviews – The Products
Upto Crypto does not have any retail products or services.
Affiliates who sign up with Upto Crypto simply market the affiliate membership.
Each affiliate membership includes access to an investment app, which Upto Crypto uses to provide investment alerts.
The Upto Crypto Compensation Plan
To take part in the Upto Crypto compensation plan, affiliates must invest funds for an ROI of up to 200%
Invest $25 and receive a 100% ROI
Invest $75 and receive a 120% ROI
Invest $200 and receive a 130% ROI
Invest $500 and receive a 140% ROI
Invest $1500 and receive a 150% ROI
Invest $5000 and receive a 160% ROI
Invest $10,000 and receive a 180% ROI
Invest $20,000 and receive a 200% ROI
Affiliates receive their ROI at a rate of 0.5% to 1% a day, five days a week.
Referral commissions of 10% are paid on funds invested by personally sponsored affiliates.
Residual Commissions
Upto Crypto residual commissions are paid and tracked through a binary compensation structure.
A binary compensation structure puts an affiliate at the top of a binary team that splits into a left and right side.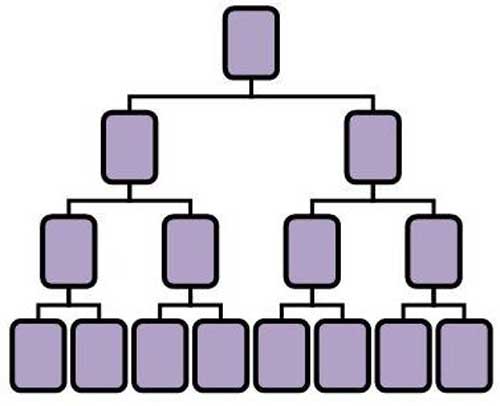 The 1st level of the binary team holds two positions and the 2nd level is created by adding another two positions under each of the first two, for a total of 4 positions.
Additional binary team levels are created as needed, with every new level holding twice as many positions as the level above it.
Binary team positions are filled by direct and indirect sponsorship of affiliates, with no limit as to how deep the team can grow.
The company counts up new investment of each side of the binary team at the end of every day.
Affiliates earn 10% of funds invested on the team's weaker side, up to 5 times the amount they first invested.
Once this cap is reached, an affiliate must reinvest in order to continue earning binary commissions.
Career Bonus
Upto Crypto affiliates can also earn a Career Bonus which is based on paid binary commissions:
Bronze (generate $1000 in binary commissions) – $50
Silver (generate $5000 in binary commissions) – $150
Gold (generate $25,000 in binary commissions) – $250
Platinum (generate $100,000 in binary commissions) – $1000
Emerald (generate $500,000 in binary commissions) – $5000
Diamond (generate $1,000,000 in binary commissions) – $10,000
Black Diamond (generate $5,000,000 in binary commissions) – $50,000
Ruby (generate $10,000,000 in binary commissions) – $100,000
Cost To Join Upto Crypto
The cost to join Upto Crypto as an affiliate is an investment of $25 to $25,000.
Continued participation in the compensation plan requires affiliates to reinvest.
Verdict on Upto Crypto
Upto Crypto claims that the ROIs they generate are a result of cryptocurrency trading…
However, they do not provide any proof that any trading is actually taking place…
The one type of verifiable income coming in is from new affiliate investment…
New affiliates join and invest real money, which is then used to payout the ROIs promised to existing affiliates…
So when recruitment dies down (which it almost always does) income will also decrease…
Once this happens, it won't be long before the company collapses…
So keep that in mind if you are considering joining this company…
I hope you enjoyed my Upto Crypto review and if you have any questions, please leave them in the comments below…
Attention Marketers And People Looking For A Business Online…
If you are struggling online and want to finally succeed with actual training, tools and mentorship to get you there…
Click Here and Watch This Video Right Now!
You can't afford to NOT watch to watch it because it will take your game to the next level…
Take a look at my recent results below….
Take a look at my students below…
If they can do it so can YOU.
You will thank me later 🙂
Follow me on Social media below:
Subscribe To My YouTube Channel Here.
Add Me On SnapChat:
Snap Chat I.D:  MillDrive
See you at the top,
-Jesse Singh
P.S. Sign up for my news letter below and transform your life (serious people only…)